« THE "APERO - JAZZ" at SALON DE PROVENCE»
9th july 2010
Un apéro-jazz avec le "Trio Pinilla-Minoz"
Les apéro-jazz attirent toujours autant d'amateurs sur les terrasses ombragées du centre ville. Et l'exceptionnel "Trio Pinilla-Munoz", du nom de son fondateur et pianiste Antopine Pinilla-Munoz, n'a pas fait exception à la règle. Fasciné dès son plus jeune âge par Ray Charles, le pianiste puise chez le jazzman, dont il s'attache à faire vivre l'oeuvre, l'essentiel de son inspiration.
Le public salonais, rassemblé près de la fontaine moussue, a apprécié à sa juste valeur l'opportunité de pouvoir écouter l'hommage à Ray Charles que le "Genius" lui-même avait qualifié de "plus authentique tribute qu'on lui ait rendu".
Antoine Pinilla-Munoz, au clavier, Romain Delorme à la contrebasse et Lionel Martinez à la batterie, ont interprété avec sensibilité et originalité les standards du répertoire de Ray Charles. Moments de pure émotion, "I can't stop loving you" et "Georgia on my mind" ont fait vibrer l'auditoire. "Les morceaux de jazz traditionnel ravissent toujours autant les connaisseurs", s'enthousiasmait Didier, passionné depuis plus de 60 ans.
L.C.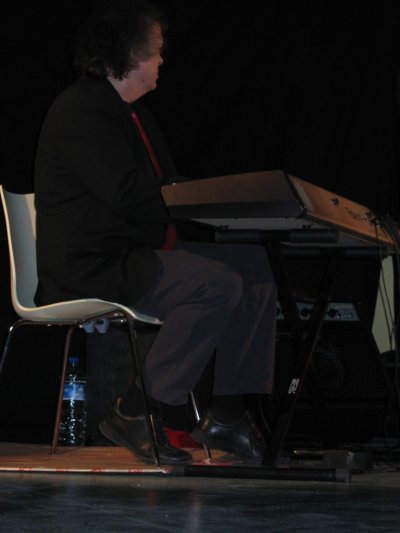 BEAUTIFUL HOMMAGE TO RAY CHARLES

The band "Antoine Pinilla-Munoz trio" gave a concert on Friday at "la Ferme a Jazz" with a remarkable hommage to Ray Charles
The great jazz pianist Antoine Pinilla-Munoz played some concerts of Ray Charles in the first part during Europe Tour 2004...
His keen sens of swing give his play a personal touch. Let me tell you that on friday night "la ferme des Carronnières"was quite small to host all the fans, some who came from far, who attended this extraordinary concert. Three cheers for the trio! It's a real treat.
The rythm changes brillantly from slow to fast. Apart from the well know "Georgia" and "Hallelujah! I love her so", Antoine Pinilla-Munoz trio decided to play some more rare one like "Hornful soul" or "A bit of soul".
The band produce greatly "Macson trio" created by Ray Charles in 1950. The final "Mo better blues" had a standing innovation. A night surely exceptionnel.
A TRIO WHO MAKES SENSATION

A. Pinilla-Munoz trio has been able to revive with a lot of conviction and warmness the amazing sixties when the jazz was king in Paris. A wonderful night of Blues and Be bop, with the spiritual presence of "the Greats", Ray Charles, Horace Silver, Oscar Peterson and many more. All this in a cool and relax pub atmosphere.
(Ouest France)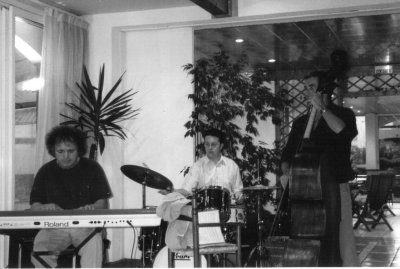 A.Pinilla-Munoz - Matthieu Garreau - Remy Grenier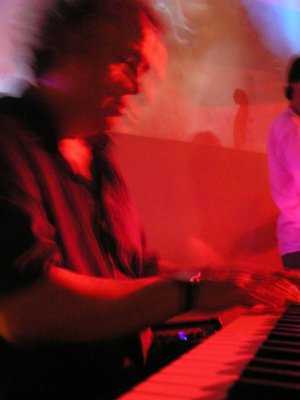 A.Pinilla-Munoz - Matthieu Garreau - Remy Grenier
THEY LOVE RAY CHARLES

"The trio begins upon a succession of standards borowed from classic blues or bop. They are on velvet. A route clearer than the way to "Saint Jacques de Compostelle" for a cozy music. With a large tribute to Ray Charles themes, Antoine Pinilla-Munoz trio is indeed playing a jazz of high quality.
(midi Libre )
MUSIC AND GASTRONOMY

For experienced and regular music lovers, and more precisely for those who are fond of jazz or for those who want to spend a cool, sweet and quiet summer night, "jazz-dinners" at "La Régalière" restaurant are impossible to avoid.
There, the owners, Michel and Colette Guillem regularly receive Antoine Pinilla-Munoz, the pianist from Montpellier, with the double bass player Eric Berquet and the beater Matthieu Garreau, who in the great tradition of blues and be-bop jazz feed your daydreams with musics of Monty Alexander, Oscar Peterson or Ray Charles.
(midi Libre)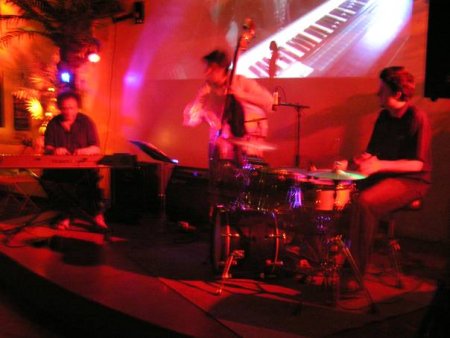 EVENING JAZZ AT THE "SPINAKER"

Yes! Friday 16th July will be a very exciting night. We are sure, in the night all cats will be captivated, so are we, at the very least fascinated.
We will receive the trio of the pianist Antoine Pinilla-Munoz with the double bass player Eric Berquet and the beater Matthieu Garreau.
"Jazz imbued with blues, blues imbued with be-bop, Rythm'n blues(RNB)."